Kita menggunakan make up tentu di saat kita harus berada di luar rumah untuk waktu yang cukup lama. Banyaknya aktivitas yang harus dijalani mengharuskan kita untuk mengandalkan produk-produk waterproof dan sweatproof agar makeup tidak terlihat aneh nantinya. Sudah banyak produk yang menjanjikan kelebihan ini. Sayangnya, tidak semua produk dapat menepati janjinya tersebut. Nah, berikut ini ada 5 foundation rekomendasi para makeup artist untuk wajah flawless yang long lasting sepanjang hari.
MAC Pro Longwear Foundation
Make up artist Lee Pycroft menggunakan foundation ini saat dia berada di Jamaica yang pada waktu itu bersuhu 27°C. Tentu terasa panasnya karena ini juga merupakan suhu rata-rata di Indonesia. Hasilnya, foundation tetap bertahan pada bagian-bagian tertentu walaupun sudah berkeringat banyak saat itu.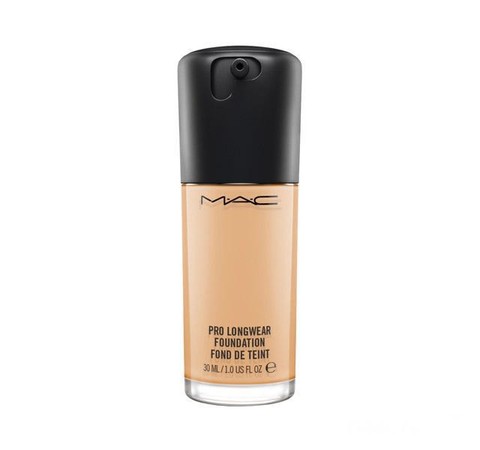 Foto: https://www.maccosmetics.com/product/13847/10180/Products/Makeup/Face/Foundation/Pro-Longwear-Foundation
The benefit of MAC Pro Longwear Foundation is that the texture glides on to the skin, making blending a breeze and it creates a fresh, luminous effect that has impressive longevity. The foundation withstood a waterfall where there was water, humidity, and an overheated model—and it still looked gorgeous.
Foundation dengan matte finish ini dapat bertahan selama 15 jam. Coverage-nya medium dengan tekstur yang lightweight dan creamy sehingga akan sangat mudah untuk di-blend. Foundation ini juga transfer-resistant dan humidity-resistant dengan oil control particles yang sangat cocok untuk kamu yang memiliki kulit berminyak.

 
Nars All Day Luminous Weightless Foundation
Make up artist Dominique Heslop merekomendasikan foundation ini jika kita akan beraktivitas di luar rumah seharian penuh. Dengan foundation ini, dijamin wajah kita akan terlihat flawless tidak peduli selelah apapun kita nantinya.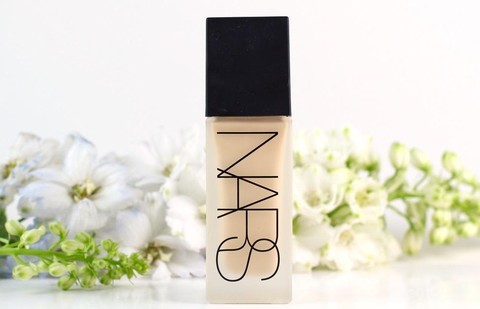 Foto: https://www.writingwhimsy.com/nars-day-luminous-weightless-foundation-siberia-light-1-review-swatches/
Once I was called to do Noisette singer, Shingai Shoniwa's, makeup for a whole day charity event. Throughout the day she had interviews with various magazines and newspapers, red carpet, live performance and dinner. She has an incredible style and that day she had about four outfit changes with some makeup variations. For this particular event, I used this Nars foundation and it was incredible. Her skin looked fresh in every picture and even after her performance she looked great.
Foundation dengan formula super lightweight ini akan memberikan natural-looking coverage yang dapat bertahan selama 16 jam penggunaan. Formulanya mengandung flexible polymers yang membuat kulit wajah tetap bernapas walaupun sedang menggunakan foundation.

 
Kat Von D Lock-It Tattoo Foundation
Make up artist Lora Arellano memilih foundation dari Kat Von ini sebagai produk long lasting favoritnya. Matte finish yang diberikan juga tidak membuat wajahnya terlihat seperti memakai topeng. Sebaliknya, wajahnya terlihat sempurna dan fresh sepanjang hari.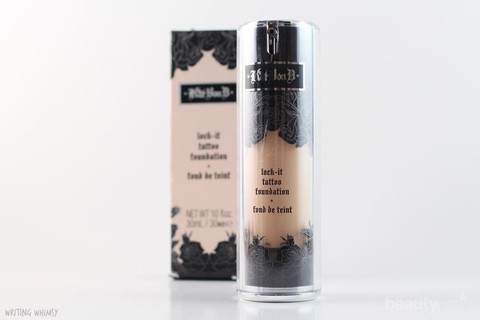 Foto: https://www.writingwhimsy.com/kat-von-d-lock-tattoo-foundation/
I recently had a 5: 30 a.m. call time and this particular job didn't wrap until around 8 p.m. This foundation is perfect for those moments when you have no time to touch up and are on the move for long periods of time. The matte finish and coverage of the foundation keeps your skin looking perfect and fresh all day and night.
Lock-It Foundation memiliki formula yang creamy dan pigmented. Coverage yang diberikan pun sangat memuaskan cukup hanya dengan satu pump saja. Foundation ini akan memberikan velvety matte finish yang dapat bertahan selama 24 jam penuh. Kandungan siliconic elastomers dan siliconic esters menjadikan foundation ini fade-free dan transfer- proof.

 
Oxygenetix Oxygenating Foundation
Make up artist Sarah Brock sangat merekomendasikan produk ini dikarenakan coverage-nya yang luar biasa serta formulanya yang tidak akan menyumbat pori-pori. Jadi, kita tentu tidak akan breakout setelah penggunaan.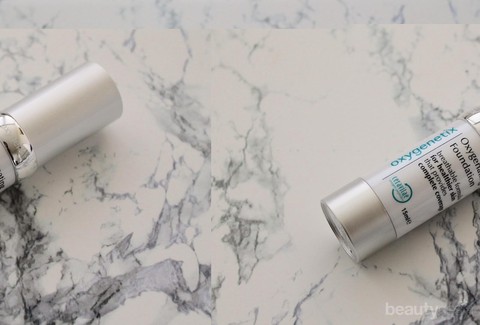 Foto: https://www.rostinted.com/2015/10/review-oxygenetix-oxygenating-foundation.html
I used this on Gal Gadot (Wonder Woman) for the Batman v Superman: Dawn of Justice press junkets and red carpet premiere, and even under the TV lighting and many, many hours of press interviews, it still looked flawless and didn't budge.
Foundation water resistant (90 menit) dengan SPF 25 ini akan membuat blur segala macam kekurangan pada wajah sekaligus meregenerasi sel-sel kulit di saat bersamaan. Formulanya dapat mendorong sintetis kolagen pada kulit sehinga masalah-masalah kulit seperti keriput, garis halus, dan kulit kering dapat teratasi.

 
Bobbi Brown Long-Wear Even Finish Foundation
Make up artist Hannah Martin mengatakan bahwa foundation ini, walaupun memiliki oil free formula dengan medium sampai full coverage, tidak akan cakey di wajah kita apalagi sampai membuat kulit kekeringan. Foundation ini mengandung shea butter dan glycerine yang akan menjaga kulit agar tetap lembap.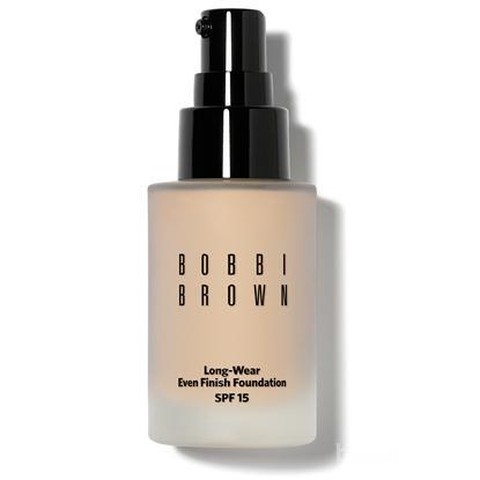 Foto: https://www.bobbibrown.co.uk/product/14017/22257/Makeup/Face-and-Cheek/Foundation/Long-Wear-Even-Finish-Foundation-SPF-15/New?cm_mmc=affiliates-_-linkshare-_-2P555SNI1Kc-_-403953&siteID=2P555SNI1Kc-GoloXYfTst6Cwk7vDDqtSQ
It lasts for up to 12 hours and performs brilliantly in hot and humid conditions. If I'm ever working in a hot location, it's the foundation I reach for as it doesn't run or slip. I just did a wedding in Tuscany and it stayed put in the 30°C heat!
Foundation yang cocok untuk segala macam jenis kulit ini dijamin tidak akan membuat wajah kita terlihat masky karena akan bertahan selama 12 jam penuh bahkan di tempat lembap sekalipun. Produk ini juga dilengkapi dengan SPF 15 serta Vitamin C dan E yang akan melindungi kulit dari cuaca ekstrim.
(ebn/ebn)